Sponsor a Student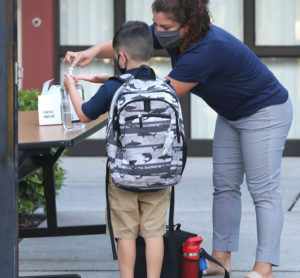 This fall semester, and perhaps every one that follows it, will be different because of the COVID-19 pandemic. Special preparations and perhaps radical changes in traditional practices will be required for the protection of all of our students, faculty, and staff.
MCCSC is committed to providing a high quality standards based instruction for every student while maintaining the health and safety of our students, faculty, and staff as our top priority. The goal is to provide a re-entry plan for our students in an optimally safe environment.
To do this we need your support. We ask for your help to ensure we are equipped for our fall re-entry. Currently classes will start online on August 12 for all students. This will be reevaluated and the shift to in-person instruction and our online academy will be made it is safe to do so. All funds raised will offset costs incurred by MCCSC and will benefit the areas of greatest need across the corporation, equipping our students and faculty to learn in the midst of the COVID-19 pandemic.
Together, we will protect our students and faculty while keeping learning a priority.
Imagine the impact your gift can make:
Rent a tent and provide a handwashing station for an outdoor classroom this fall.
Sanitizing supplies and foggers for cleaning buses.
Provide MiFi/Hot Spots for a family in need for the school year. Based on survey data we project the need is 300 families.
Individual facial coverings, shield, and PPE (gloves, throw away gowns, scrubs), partitions for desks where we have special needs.
Digital Thermometers – 10 families for at home screening.
Support-A-Student with Basic School Supply box including markers, crayons, art pencils, #2 pencils, sharpener, notebook, eraser, scissors, glue stick, liquid glue, and fine point sharpie.
For information on multi-year pledge commitments, major gift opportunities, or in-kind gifts please contact us at fmccs@mccsc.edu
If you prefer to make your gift by check or disbursement from a charitable trust or IRA our mailing address is 315 North Drive, Bloomington IN 47401.
The Foundation of Monroe County Community Schools is a 501 (c) (3) and your gift is tax deductible as permitted by law. The Coronavirus Aid, Relief, and Economic Security (CARES) Act (Act) passed on March 27, 2020 provides additional incentives to cash gifts for 2020. Please consult your tax adviser for more information.
---
2 Comments
---
Trackbacks
Leave a Reply