Fit4Lit a Program of FMCCS
April 1, 2011

-

May 31, 2011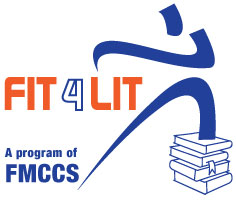 Join The Foundation of Monroe County Community Schools and Leadership Bloomington Monroe County Class of 2011 and get Fit 4 Lit!
To be fit for life, our young people must be literate. It is an indisputable fact. Students who read at grade level by the third grade are poised for success. They graduate from high school, make more money, vote, volunteer, raise healthy children, and succeed in life.
Today in MCCSC schools, over 30% of all students read below grade level. These students sit at desks across our district, and they are falling behind. Without action, they are likely to drop out of school and face significantly greater social and economic challenges throughout their lives.
Fit 4 Lit is a program designed to engage community members as Champions for Literacy and to help reverse this trend.
If breaking a sweat isn't your idea of fun, we won't discriminate. Read ten books, Quit smoking, Give up television, or set any challenge your friends will support. If you can raise $250 you can be a Fit 4 Lit Champion. The first 100 Champions to raise $250 will receive a cool Fit 4 Lit t-shirt.
Every dollar raised will go directly into MCCSC schools to support students and literacy.