Bequests & Future Giving
Adding a gift for the Foundation of Monroe County Community Schools to your will or retirement plan is a simple act with extraordinary results.
Once you are sure you have enough money to live comfortably (and arranged for any gifts for family and special people), you may find joy in planning a future charitable gift to forever inspire curiosity and the love of learning.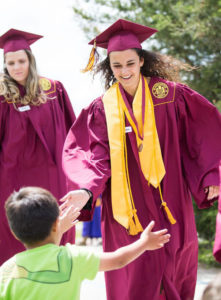 Charitable bequests are an amazing way to share your legacy with students and give them wings to soar.
Over the past five years the Foundation has received five bequest gifts? These loving gifts, from individuals who were passionate about education, have written their vision for future students and seeded the Foundation's Unrestricted Legacy Endowment. We are grateful to:
James F. and Carolyn Wier Thompson

Donald K. Neal
Marian Armstrong
Judith Torvi and
Ida Medlyn
Their bequest gifts will forever spark ambition and help students reach their full potential.
Charitable bequests from people from all walks of life are fulfilling the promise of a high quality education for our local youth. With a bequest to FMCCS, after you pass away we will follow your instructions and turn your kindness into the action you requested. You will forever support learning and turn dreams into reality.
If you would like more information please contact Cyrilla Helm, Executive Director at 812-330-7700 X 50065 or email mhelm@mccsc.edu