Real Men Read Parent/Mentor Portal
Real Men Read is a kindergarten literacy program that enhances reading skills and builds home libraries for all MCCSC kindergarteners.
Volunteers are male members of our community who are passionate about reading and helping our kindergarteners learn to read.  MENtors are assigned to a kindergarten classroom and read a preselected book during the months of October, November, February, March and April.   After the reading each child is given a copy of the book for their home library.
Volunteers must submit information for a back ground check and will be required to wear a mask while volunteering.
Books for this year are listed below along with links to recorded readings, information, and new vocabulary.   Our goal is to share fun activities and exciting stories with our early readers to encourage a love reading.
Research shows that reading with a child at home is one of the best ways to increase reading skills. 
If you are interested in volunteering as a MENtor please email us at fmccs@mccsc.edu 
You can make a gift to support this program.
$20 funds the program for one student.

$60 funds one classroom for one month of the program.

$300 funds a classroom for all five months of the program.
To make a donation to Real Men Read, please click the Donate button. Under "Related Gift Information," make a note that your donation is "For Real Men Read." Thank you for fostering a love for reading in our students.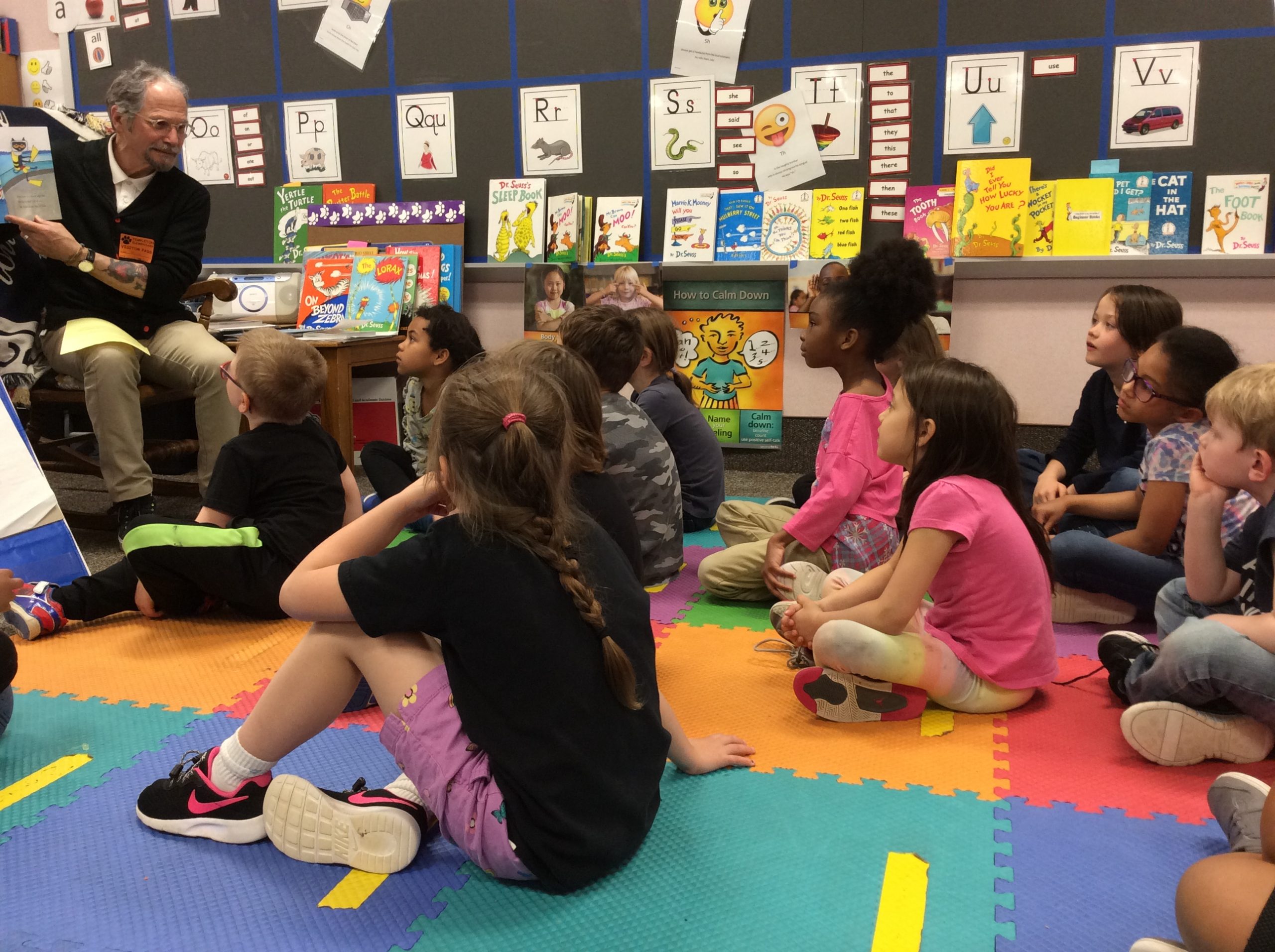 Thank you to our 2021-2022 program sponsors: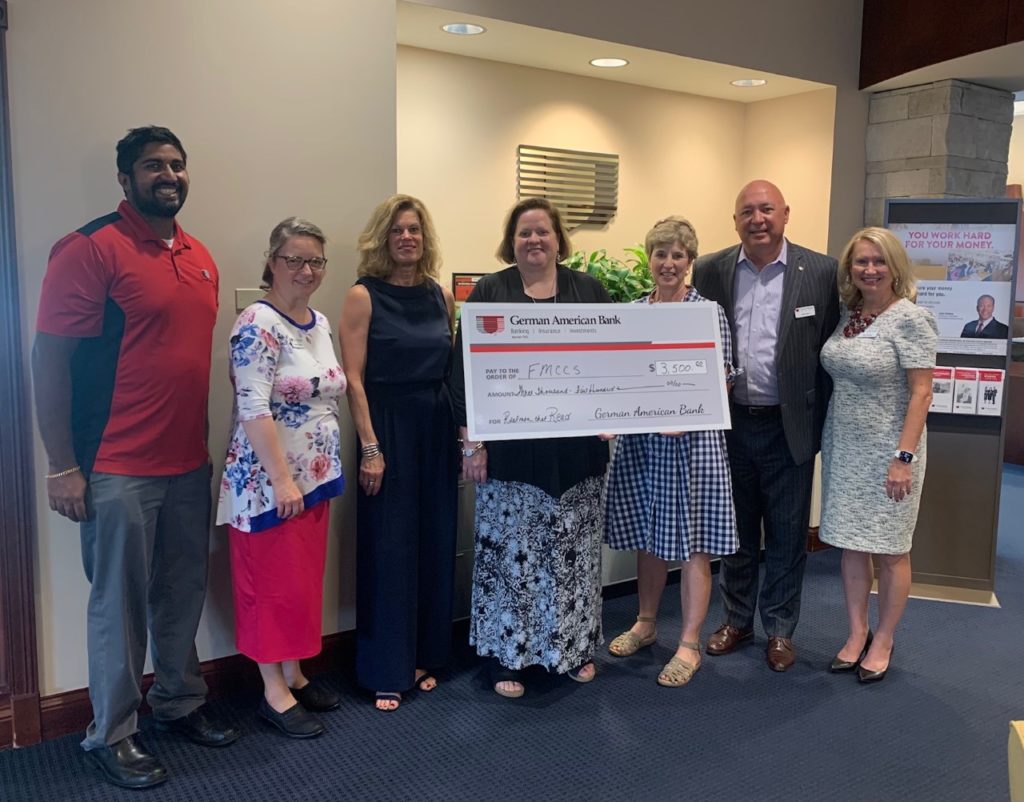 The Wahl Family Charitable Trust and German American Bank
Written by: Kes Gray & Jim Field
A read-aloud story that will have kids rhyming around the house!
"It's very simple, really. Cats sit on mats, hares sit on chairs, mules sit on stools, gophers sit on sofas, and frogs sit on logs."
Key Vocabulary: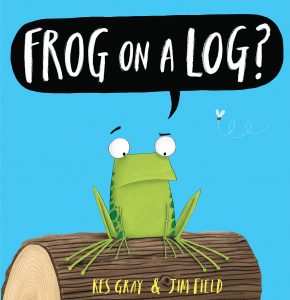 November -  If You Give a Pig a Party
Written by Laura Numeroff
Illustrated by Felicia Bon
New Vocabulary:
decorate

pajamas

fortress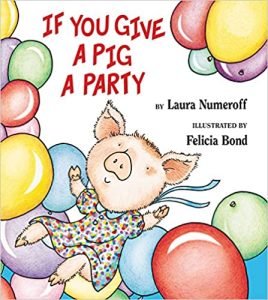 Is a humorous story with great illustrations and lovable characters. The sequence of events starts with a girl's offer to give a pig a party. The pig then asks for balloons to decorate the house, puts on her favorite dress and invites her friends to the party. The pig's friends, a mouse, a moose and more, are attending a street fair, so the pig joins them for the rides and games. After returning home, the girl plays hide and seek with the animals. Children will have fun trying to find the animals hiding in the back yard. Then the pig wants a sleepover and the animals have a pillow fight. The story ends with the pig asking for another party. Felicia Bond's humorous illustrations are simple and delightful. This creative book can be used to teach the concept of cause and effect.
Recommendations:
If you like cause and effect books you might read, No David  by David Shannon or I Want My Hat Back by Jon Klassen
February - Pierre the Penguin, A True Story
Written by: Jean Marzollo and illustrated by Laura Regan

Pierre the Penguin lesson plan
New Vocabulary
observed (watched or noticed)

jam (difficult situation)

brayed (squawked loudly)

neoprene (thick, stretchy fabric)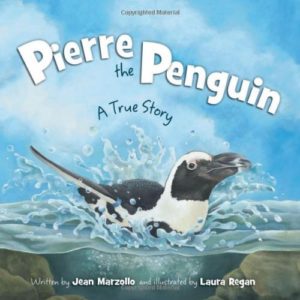 This is a true story about Pierre, a small penguin in a museum in California.  The people at the California Academy of Sciences worked together to help him.  This book is written in verse so the language has rhythm and rhyme.
Recommendations:
Check out these links to learn more about Pierre and the California Academy of Sciences
PENGUIN FEEDING at the California Academy of Sciences
Daily at 10:30 San Francisco time—1:30 Bloomington time
Pierre's African penguin colony are fed, just like they are in Pierre's story.
March- Fly Guy #1: Hi Fly Guy!
Written by: Ted Arnold
When Buzz captures a fly to enter in The Amazing Pet Show, his parents and the judges tell him that a fly cannot be a pet, but Fly Guy proves them wrong.
This book introduces early readers to chapter books.

New Vocabulary
pest

rescue

judges

award

friendship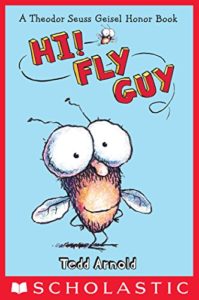 April - Pete the Cat's Train Trip
Written by: James Dean 
Pete the Cat is excited to take a train ride to see his grandmother.  The conductor gives Pete a tour of the train.  Read to find out what fun adventures Pete has on his train trip.
MENtor Reading by Dennis Cromwell
New Vocabulary
cargo train (a train that carries things like coal, not people)

conductor (the person who takes tickets and helps people on a train)

caboose (the last car on a train, usually red)

engineer (the person who drives the train)
Recommendations:
Talk to your school librarian for more Pete the Cat books!