All grant programs funded by the Foundation are made possible by generous donations from individuals, organizations, and businesses in our community.  The grant process is competitive, and the selection committee is comprised of teacher representatives from MCCSC schools, FMCCS Board members, and donors.
2022-2023 Curriculum Enrichment & Small Science and Environmental Grants
Academy of Science and Entrepreneurship
Instructional Engagement and Creativity - Technology will support varied instructional models for learners of varied abilities to increase engagement through creativity of instruction.
Arlington Heights Elementary
Garden Renewal and Composting - Renewal of raised garden beds and a composting initiative will support the learning of concepts related to environmental impact of human systems and renewable resources while students participate in project planning and planning for sustainability.
Batchelor Middle School
Memoir Book Clubs for Middle School Students - The purchase of varied genres and levels of books in their Book Club curriculum will allow for book choices that are more academically accessible and inclusive of students that have Individual Education Plans (IEPs) through Special Education.
Binford Elementary
Getting Additive at Binford Elementary! - A 3D printer will be used by multiple classrooms and educators including grade-levels, community-based classrooms, specials teachers, and the robotics team.
Bloomington High School North
Math Club at University Elementary - Books will support curriculum development for Math Club at University Elementary. Math club is led by a BHSN math teacher and BHSN math student volunteers.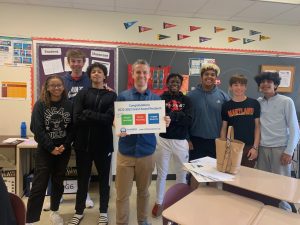 Commission for BHSN Treble Chorus - Commission for a new piece of music for Treble chorus, piano, and organ for performance. The text for the piece will be chosen from submissions from current BHSN English students.
Cadaver Lab Field Trip for Anatomy and Physiology Students - Students in the Dual Credit Anatomy and Physiology class at BHSN will visit the IU School of Medicine's cadaver lab in Indianapolis.
Rolling Out for Success - Materials will support the success of students in the Principles of Culinary & Hospitality course in their pie-making unit and include pastry mats with measurements and various cutters.
Bloomington High School South
INCubatorEDU - A 3D printer and filament will enhance a new fabrication lab at BHSS as part of a new entrepreneurship class supporting career readiness standards.
Fairview Elementary
Pollinators Make Our Gardens Grow - Books will provide curriculum materials about pollinators and gardening that will support the knowledge and wonder that the students encounter working in the Fairview Garden.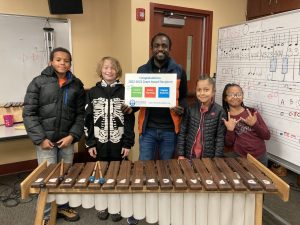 Zimbabwean Marimbas - Three customized Zimbabwean marimbas will be used in their World Music Class, part of the Fairview Performing Arts Program, and the World Music After School Club (CODA Academy). Provided through Hutton Global Grant partnership.
Grandview Elementary
Technology and Coding in the Field of Robotics - Funding for robots to be housed in the library to support career-based exploration in technology and robotics for all grade levels.
Highland Park Elementary
Soft Fat Landing Mat - A new soft fat landing mat will be used in the gym to support student safety, engagement, motivation, and emotional health.
Classroom Sensory Enrichment - Materials to support a sensory zone in community-based and PreK classrooms to assist with emotional regulation.
Guitars for 3rd-6th Grade Students - A classroom set of 30, 3/4 size student guitars will enhance music education by fostering participation and a deeper understanding of the musical concepts listed in the Indiana Music Education Standards.
Classroom Enrichment - Classroom enrichment materials including leveled readers and organizational materials will support a Community-Based Classroom.
Jackson Creek Middle School
Mat Swap for PE - Replacement of 25-year-old gym mats will support physical literacy of all students in the school through PE classes, as well as supporting extra-curriculars such as wrestling and cheerleading.
Lakeview Elementary School
Guitars for Beginners - Funding of a classroom set of 20 guitars for 5th and 6th grade students to learn to play in music class.
Literacy Based STEM and Novel Engineering Materials - Literacy Based STEM and Novel Engineering lessons and activities support the reading and science curriculum at all grade levels by presenting a "problem" to solve present in a book the students are reading. Students use materials to come up with a solution to that problem.
Summit Elementary
Camp Connections 2023 - Materials and supplies to support the Camp Connections peer training program which provides typically developing school-aged children with strategies that will help them to find the commonality and connections between them and the campers with intensive communication needs.
Tri-North Middle School
Summer Reading - Funding for new books for Tri-North's Summer Reading 2023 program which involves students and teachers reading a book independently during the summer and coming together in book communities to discuss the book and celebrate summer reading.
Guitar Music Literacy - A classroom set of guitars to aid the learning of and generate interest in musical literacy and competency.
Unionville Elementary
Can You Hear That? - Funding for Bluetooth speakers to enable classroom teachers the flexibility to move around the classroom while streaming media to increase the ability to hear and engage.
University Elementary
Metal Foundry Experience - Project combining art, science, and industry to take 6th grade students through the multi-step process of casting aluminum sculpture. All grade levels will learn about the process and be able to witness it, and the sculpture will be displayed at the school.
Templeton/Grandview/Childs Elementary Schools
Color My World - A portable color projector and headphones/splitter for use by the English Language Learner teacher who travels between three elementary schools will allow for a richer learning experience for these visual learners that can be delivered in non-traditional classrooms (e.g., hallways, shared spaces).