Residents Support Schools In Adult Spelling Bee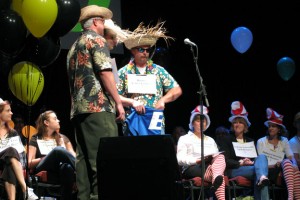 Article Source: IndianaPublicMedia.org
Written By: Claudia Lozano
Teams from businesses around the city dressed up and joined the adult spelling bee fundraiser to support Monroe County Public Schools.
Cheering, laughter and clapping were all part of this year's Great Grown Up Spelling Bee contest.
Participants not only had to spell tough words, but they also had the opportunity to showcase their spirit as a team or as a supporter of the event.
"I always wear a costume, I love costumes," participant Fran Weinburg said. "When I was a teacher I was a bunny in Easter, and I was a witch on Halloween."
This is the event's second year, and while new words, new spellers and new costumes were introduced, they were all buzzing for education to help support public schools in Monroe County.
"The event is designed to be a little lunacy," the spelling bee's event coordinator Cyrilla Helm said. "It's more fun for the team if they can add a little spirit, add a little personality to it and design their own fun to go along with it."
But when it's spelling time, Monroe County Community Schools Executive Director Sara Neeley, says all 11 teams have their game face on.
"It's a highly competitive event," she said. "Teams are in there. They want to win this. They want to go home with the trophy. They want to be the king queen bee and just take that trophy home with them."
The WTIU Super Grovers took home the trophy this year. The spirit award went to the Cook Carpenters, and the award for the best costume went to the Solution Tree Queen Bees.
Watch the WTIU News Broadcast about the Spelling Bee below:
[pro-player width='530′ height='400′ type='video' image='https://mccsfoundation.org/wp-content/uploads/2011/09/Screen-shot-2011-09-09-at-6.06.11-PM.png']http://www.youtube.com/watch?v=Xf6cNCPYJUE [/pro-player]