Impact
Transforming lives through educational experiences.

The Foundation of Monroe County Community engages community support to inspire learning, enrich teaching, and enhance educational opportunities of all MCCSC Students.

Served in 2018-2019:
11,122 students benefited from 55 grant projects totaling $47,000
880 kindergartners worked with 44 community MENtors to improve literacy skills in our Real Men Read Program. Each student was given 5 leveled readers to build their home libraries – that's 4,400 books!
1,165 books purchased for MCCSC Libraries
$45,700 to support literacy instruction. Projects include: Real Men Read and Intervention resources at all grade levels
$41,400 was awarded to high impact STEM programs including the FMCCS Science Resource Center and GEMS
$100,000 raised toward the STEM to Them Mobile Lab
150 girls in grades 5th and 6th attended the first annual Girls in Engineering, Math, & Science event. More than 80 female volunteers helped engage young girls in STEM.
$55,200 was raised to support the Food Assistance program which served more that 1,000 students throughout the year.
25 upperclassmen were awarded with scholarships and awards totaling $15,800
22 high school students received Personal Achievement Awards
29 adult learners received scholarships for high school equivalency testing.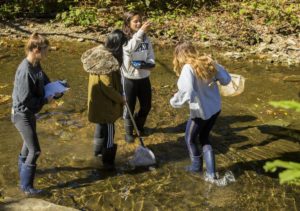 Since 1973, the Foundation has provided more than 1,806 grants in MCCSC schools.
Cumulative funding provided by FMCCS to the school corporation has reached

$4,050,000

!
Thank you for your generous support to empowering education.