Bloomington Reads asks: What are you reading?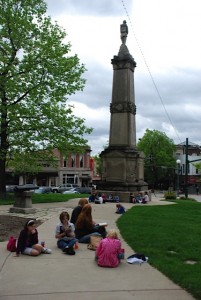 What are you reading?
That's the question the Foundation of Monroe County Community Schools hopes people will ask themselves and others during Bloomington Reads, this week's series of reading-related activities aimed at highlighting literacy.
"Nothing defines the success of a child better than the ability to read and to read well," foundation executive director Tina Peterson said via email. "Throughout this week, we want our young people to see others reading everywhere: reading for pleasure, reading for work, reading for survival."
A public conversation about the changing face of literacy titled "Digital Media: The End of Literacy As We Know It," will be held at 6:30 p.m. Wednesday at the main branch of the Monroe County Public Library, 303 E. Kirkwood Ave. New Tech High School principal Alan Veach will lead the discussion.
Mike Mattos, a nationally recognized authority on Professional Learning Communities, will speak from 7 to 8:30 p.m. Thursday at Bloomington High School South. The Monroe County Community School Corp. uses the PLC model, and Mattos will highlight the model's impact on students.
And from 8 a.m. to noon Saturday at the farmers' market, readers of all ages are invited to come and read aloud "James and the Giant Peach" by Roald Dahl. Each individual will read one page, and the entire book is expected to be read during the four-hour event. Free books will be given to the first 300 students who visit the Bloomington Reads table.
Also during the week, members of the local South Central Indiana Kiwanis Club will deliver books to Head Start classrooms and to Monroe County United Ministries and will read to each class during their visit. Students in MCCSC schools will participate in a variety of activities as well.
Source: Herald Times | Bethany Nolan