Be a Super-Power for our children!
Every year the Foundation works to provide educational programs that will inspire learning, enrich teaching, and enhance educational opportunities for all MCCSC students.
Our vision is to transform lives through educational experiences.
Is the work of the Foundation important?  Ask Emily Menkedick, an MCCSC literacy coach who coordinated the Super-Power Reading Camp this summer for 23 struggling readers.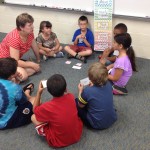 Super-Power Reading Camp was a great program for these children.   Everyday they worked  diligently on vocabulary, phonics, and fluency skills.  The goal was to increase their literacy skills , but the impact was so much more.  Devon, a first grader who was tardy 41 times during the regular school year loved reading camp and received perfect attendance this summer.  Sara came to camp one day with a fever because she didn't want to miss camp.  And all of the families became more involved in their child's education through this program.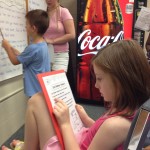 The Foundation's programs are completely funded through the support of generous donors in our community who value education.  The Super-Power Reading Camp was provided through a grant to the FMCCS from the Duke Energy Foundation.
As we start the school year, will you please make a gift to the Foundation.  Your tax-deductible gift, no matter the size, will help provide resources and educational experiences that will inspire learning for all MCCSC students.
Thank you for becoming a Super-Power for our children!  Your gift will transform lives.
Gifts can be made on-line by clicking the donate button now or complete a donor card and mail your gift to our office located at 315 North Drive, Bloomington IN 47401.  MCCSC employees may also complete the donor card and give through payroll deduction.
To learn more about the Foundation's programs, calendar, grant application deadlines, and fundraising please refer to the following links.
Important Dates and Deadlines for MCCSC Employees
2015-2016 Grants Program Reference Table  for more detailed information please go to the Grants tab.
Giving to the Foundation with Education License Plates, Kroger Community Rewards, Amazon.Smile.com and NAP Credits