Please join the Foundation in THANKING our teachers.
A perfect way to honor and thank your teacher as this school year comes to a close is with a gift to the Foundation. Your gift will support all students district wide!
https://www.youtube.com/watch?v=keP7bGgM_gM&feature=youtu.be
The Thank A Teacher Program is a great way to express your gratitude to the educators and other school personnel who make a difference in your child's life each and every day. By honoring an educator with a tax deductible donation to the Foundation, you will not only communicate your appreciation for a job well done, your gift will help inspire learning and enrich education for more than 11,122 MCCSC students.
To Thank A Teacher:
Download the fillable PDF and return the completed form with your gift of $15 or more to our office at 315 North Drive, Bloomington IN 47401
Gifts can be made online by clicking the Donate button. In the comments type TAT gift, the teacher you would like to thank and your personal message OR email the completed PDF to fmccs@mccsc.edu.
Gifts can be paid monthly by creating your recurring gift to a credit card. If you would like more information about this please contact us at 330-7700 ext 50065 or fmccs@mccsc.edu
Classrooms can also take up a collection of small gifts to honor their teacher – please have a PTO parent coordinate for your classroom.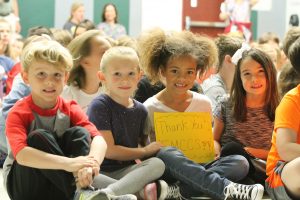 Thank you for making a difference in the lives of our students.

Your gift will change lives!
Thank you to students in Advanced Editing at Bloomington High School South for producing our PSA: Adam Diersing, Bryce Carson, Ashley Reynolds, Lucas Coniaris, Robbie Ganya, Fawzia Istrabadi