Giving Tuesday Now-THANK YOU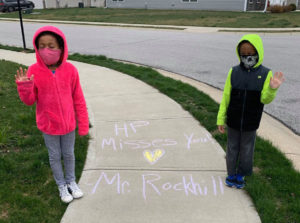 Thank you! We are overwhelmed by your generosity. Together we raised $19,000.
COVID-19 has greatly impacted our community. We are humbled by your support during this crisis . Your outpouring of love shows how caring our community is.
MCCSC alumni, families, and friends your unity is making a difference! You can still donate to support learning needs. This summer 400 students will participate in learning programs and meals will continue to be served for those in need. Click Donate to help our students.
MCCSC graduates we urgently need your help. Please share this with at least 20 friends in your graduating class and ask them to help honor the Class of 2020. These graduates will not experience a normal graduation with the "Pomp and Circumstance"march, walk across the stage, listen to speeches from their peers, or move their tassel from left to right. Unite today to show them MCCSC cares.
Families and friends we need your help just as much. Please share with your network to help unite our school community today.
Your support, in any amount, will make a tremendous difference.
Your gift will provide lunches, books, and classroom resources that both enrich learning and support intervention needs. COVID-19 has undoubtedly expanded learning gaps for many children. It is critical that our teachers have the resources needed this summer and next fall to support the needs of our students.
If you are able to give at this time, please click Donate to make your gift today. Together we will make a difference.
Did you know there are more than 300,000 MCCSC alumni? Your help today uniting MCCSC will greatly impact our students and faculty. Imagine if we can reach 20% of our alumni and each makes a gift of $10 or $20. #MCCSCProudToBe
Did you know there are more than 300,000 MCCSC alumni? Your help today reaching out will greatly impact our students and their success.
I hope you and your loved ones are safe and healthy during this crisis.
More than ever, we are called upon to make a difference #GivingTuesdayNow